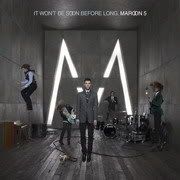 1. If I Never See Your Face Again
2. Makes Me Wonder
3. Little Of Your Time
4. Wake Up Call
5. Won't Go Home Without You
6. Nothing Lasts Forever
7. Can't Stop 2:32
8. Goodnight Goodnight
9. Not Falling Apart
10.Kiwi
11.Better That We Break
12.Back At Your Door
13.Infatuation (Bonus Track)
Visa informacija naujienoje matoma tik VIP nariams.
<<< Tapk VIP nariu >>>