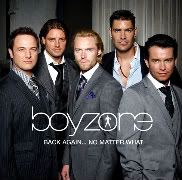 1. No Matter What
2. Baby Can I Hold You
3. Love You Anyway
4. Words
5. Love Me For A Reason
6. A Different Beat
7. All That I Need
8. Better
9. You Needed Me
10. Father And Son
11. Canít Stop Thinking About You
12. I Love The Way You Love Me
13. Coming Home Now
14. Isnít It A Wonder
15. Picture Of You
16. Every Day I Love You
17. Life Is A Rollercoaster (Live)
Visa informacija naujienoje matoma tik VIP nariams.
<<< Tapk VIP nariu >>>